Calcium propionate

Calcium propionate(C6H10O4Ca)
Property:White crystalline grain or powder, with little propionic acid smell,stable to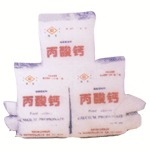 heat and light, easily soluble in water.
Executive standard:GB25548-2010,FCC,E282
Use:Used in preservative for bread, cakes and cheese etc.; mildew inhibitor in feedstuffs and additive for mineral substance. Maximum use level(Japan standard):3.15g/kg.
Packing:Woven bag or kraft paper bag with one plastic bag inside, each 25kg net.
Storage and transportation:non dangerous article, sealed.
Quality standard(Food Grade/FCC4)
| | | |
| --- | --- | --- |
| Item | | Index |
| Content£¨based on dry basis % | min | 99.0 |
| PH value of aqueous solution | | 7-9 |
| Insoluble substance in water % | max | 0.15 |
| Water content % | max | 9.5 |
| Free acid£¨based on CH3CH2COOH % | max | 0.11 |
| Free alkali£¨based on NaOH % | max | 0.06 |
| Fluoride£¨based on F£ % | max | 0.003 |
| Magnesium£¨based on MgO % | max | 0.4 |
| Arsenic£¨based on As % | max | 0.0002 |
| Heavy metal£¨based on Pb % | max | 0.001 |